Chris welcomes the guys to London.
Will Sean Capture Emily's Heart?
Ring ring…
London is calling.
Will Sean answer?
A kiss fit for a princess.
We just outdid William and Kate with that kiss.
Sean is selective
Emily and the whole world want to know why Sean's last date was three or four months ago…
Is Sean really ready to have babies with me yesterday?
Humble perfection is worth a rose.
I wish this night would go on forever.
Going on the group date tomorrow would leave Kalon smelling something other than roses.
Don't dude don't, read my name on the group date card.
Good things happen to those who meditate.
The guys are in for a little bit of an audition today.
Arie has no clue he'll be nursing Emily's wounds.
Is it male or female bonding?
Oh, my lady…have we matching scarves?
I smell BS coming from Ryan.
Shew fly, don't bother me…
Thespians take a bow.
Nurse Arie tells Juliet how to choose a man. It's the legs…
How do these look?
Arie can heal all our wounds.
Rough, warm and wet.
I'll never wash this cheek again.
Jon and Doug get cheeky.
Ryan draws stares from the crowd and laughter from the housemates.
Jon and Arie in a bonding moment
Romeo is dying for Emily's affection. The guys are dying to deck Romeo.
Emily proudly takes her actors to the pub.
Is There Life After Shakespeare?
Emily thanks the guys for being good Shakespearean sports.
Laughter is the best medicine.
Emily and Arie still can't stop kissing.
Ryan continues to play Romeo.
Doug reveals that Kalon has issues with baggage.
Obviously baggage has
a negative connotation.
Mama bear defends her cub.
The guys are stunned into silence.
Oh boy, what did I do?
I certainly acknowledge I am not a real man. Bye bye.
No respect = no rose.
Team Emily to the rescue. Calgon take her away.
That girl can certainly handle herself.
I think I made a big mistake.
I really wanted that rose tonight.
Will Jef Light Up Emily's Life?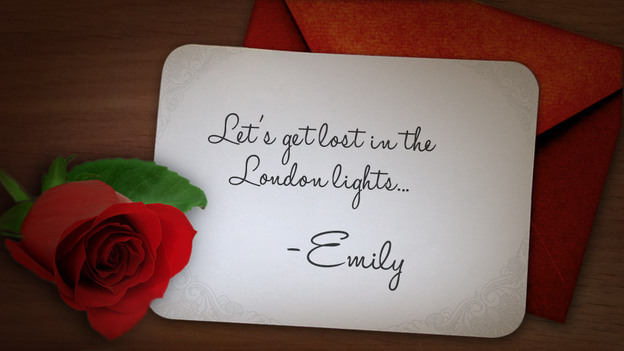 Afternoon tea sounds delightful.
Jean and her etiquette got ditched for fish and chips.
I want my first bag to be a Chloe.
Dessert in The London Eye…Amazing.
I can see a future of hosting dance
parties and singing into hair brushes.
By far the most anticipated kiss of Jef's life.
Leaving London and One Bachelor Behind
Promises made to protect and defend.
Do-over talk with Emily, please. That one didn't go so well.

Ryan still has one more performance left in him.
(Think we'll see more than one.)
Falling for Mr. Smooth.
Emily gets butterflies in her heart with Sean.
More Tough Decisions
When the clock strikes twelve…
The return of Ames' red pants.
Farewell Allejandro
Hello Croatia