Things I LOVE About Episode 2 and Other Random Thoughts…
I LOVE how they opened the show with the local news clip. This was the first of many things that makes filming the show in Charlotte feel so real and less "produced".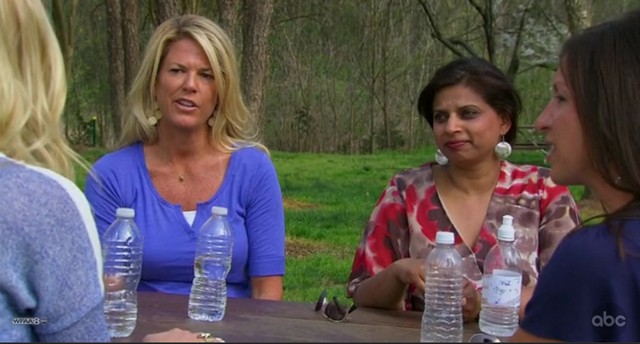 I LOVE that Emily brought Ricki to the park for a play date and met with her friends for some girl talk. A girl needs her BFF's! It sounds like these women will be asking some tough questions of the guys next week on a group date. Who will measure up?
I LOVE Kalon's comment, "Being in Charlotte is overwhelming. It's like the frathouse from hell on steroids". Unfortunately, that is the only slightly entertaining thing that has come out of Kalon's mouth. Who's with me on that?


The first date card goes to Ryan!


Ryan was a good sport
wearing that apron!
I LOVE that Emily rocked it in her casual wear for the
day part of their date and that they started out their
day making cookies for Ricki's soccer practice.
Seriously, how cut are they?
So real…so Emily…so down-to-earth.
Emily has learned a lesson from her last go-around on the show and the girl means business this time. She asked Ryan some tough questions during the dinner portion of their date. I'm not convinced Ryan passed the test. Are you?
I LOVE
their conversation about the "chase" and laughed out loud at Emily's, "Honey, I'm gonna give you a chase if you ask for it…get on it"! She certainly looks comfortable dancing in his arms!
Having said that, a red flag went up when Emily referenced Ryan to Brad with his good looks and she admitted worrying that Ryan is too perfect. Not a good sign! I was looking for some serious chemistry between these two. Was it an explosion or did it seem to fizzle out?
And the group date goes to The Muppets…with a few guys thrown in!
The guys were anxious to hit the stage, but I'm sure they did not expect to be sharing it with Fozzy Bear, Kermit or Miss Piggy!
I LOVE that Emily was so gracious to Charlie when he explained his disability from the accident.
Is it just me or are there distinct similarities between these two guys?
I LOVE Jef's proposal to Miss Piggy. I have no doubt this man will know exactly what to say when the time is right.

I LOVE watching Ricki's excitement as she ran up on the stage. That's a dream come true for any child and she'll remember it for the rest of her life. Well done, Emily.
The After Party
Emily thinks Chris is sooo good looking, yet very humble. Chris feels a connection with Emily and thinks there is no one else that shares that.
The tension between Stevie and Kalon builds as they vie for time with Emily. I hope she sends one of them home soon because I'm over the drama between these two.
Since Kermit is Taken, the Group Date Rose Goes to Jef
Emily says either Jef is playing hard to get, or he's just not that into her.

I LOVE her sass when she called him on the carpet for ignoring her all day. Emily feels awkward, like she's in middle school trying to get Jef to look at her and give her reassurance. Oh boy…
Jef knows Emily has given him the "look", but he thinks she's giving it to a bunch of other guys too. Oh boy, oh boy…
Emily, of all people, understands what it's like to be skeptical. She gives the date rose to Jef to remind him she's glad he's there. Jef seems surprised that Emily is giving him the rose. Either that, or he needs to start playing poker.

I LOVE that we finally see a little bit of a grin on Jef's face. Can you say "relieved"? Jef is safe for this week.
Joe Receives the Last Date of the Episode
Flying to Emily's home State of West Virginia
Dinner by the "Love" clock at
Greenbriar Resort and Spa
Emily tearfully sends Joe home and
watches the fireworks alone.
Meanwhile Back at the ranch, the guys discuss taking on the role of being a father. Kalon, the resident expert, thinks Doug put his child on hold to come on the show. Doug tells Kalon to be careful, stop and check it.
Sean feels that Kalon speaks before he thinks and it will eventually get him in trouble. Is this foreshadowing?
Sean is worried becasuse he didn't get a date this week. He knows how important time with Emily is and starts to doubt himself.






Pretty in Purple at a Cocktail Party

I LOVE that Emily is so excited to see Arie. She wants to know about life in Scottsdale, AZ. Emily is surprised to find out that Arie was previously in a relationship with a woman with two children.
Without a date this week, Arie's had a tough time hearing the guys telling great stories about the connection they have with Emily.
I LOVE that Emily is nervous around Arie. She has that giddy girl expression during their 1:1 time and tells him that she remembered him this week because he is a very special guy. How cute is it when they return holding hands? She is definitely intrigued by this guy…and I don't think she is alone. Any team Arie fans out there?
Can I just say how awkward it was that Ryan wrote Emily a seven page letter after one date? Can I just say how awkward it was that Tony stood there waiting for Emily to finish reading the seven page letter? Thanks. I feel better now.
Emily is…
Gazing upon the faces of her prince charmings
Very happy to see someone
So relieved to have another rose ceremony over with
Looking forward to more dates in Charlotte next week
A skateboard lesson from Jef
Jef: No heels, no fancy dress…just you
and me and a skateboard
Emily: Absolutely do not let go
Emily: That was awesome, you're a good teacher
Emily: You're cool, I like hanging out with you
Next week…According to this press release from ABC Medianet, this one of the most intense first kiss in Bachelorette history! I'm sure it's also the most dramatic. Guess who?
A very special thank you to Love_Me and San at Bachelor and Bachelorette Fans Forum for the screencaps. Click on the link to join us for discussion and spoilers!